Calling all artists, designers, and aspiring makers! Join us for an introduction to creative placemaking – using temporary pop-ups and other installations to test its impact on your city. From parklets to interactive art, to just a nice place to sit – learn how to prototype your ideas to create a more vibrant public space for your community!
Instructors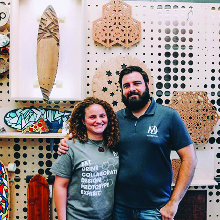 Daisy Nodal & Tom Pupo from Moonlighter
Daisy and Tom are the Co-founders of Moonlighter, a Fablab and Makerspace for creative collaboration in Wynwood. They feature and support local artists and creatives and aspire to engage the community with fun and educational STEAM experiences that foster the growing maker movement.
Learn more about Reimagining Cities
This 10-week program teaches the principles of design thinking, advanced manufacturing, and rapid prototyping in the context of shaping public spaces. It is ideally suited for artists, designers, engineers and creatives looking to augment their talent with digital skills to make a mark on their city. Students will learn fundamental design concepts and CAD/CAM techniques and how to apply them to solve urban challenges with alternative creative solutions. Upon course completion, students will be able to develop and build a three-dimensional prototype of their designs.
New cohort starts on March 11. For more information, click here.